Raphaël Sévère – Clarinetist
After winning the Tokyo competition at the age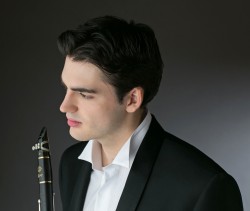 of twelve and gaining a nomination as "Solo instrumental discovery" at the Victoires de la Musique Classique when aged fifteen, Raphael Sévère went on to win the prestigious competition of Young Concert Artists International Auditions in New York in November 2013, where he was awarded First Prize and eight special prizes. > Following of the biography
News
The new CD Messiaen / Ades with Raphaël Sévère and Trio Messiaen released in February 2019 at Mirare was rewarded Diapason d'Or by Diapason and Choc by Classica magazine.
Le Figaro : "If the Mozart and Weber concertos he recorded with major orchestras are naturally part of the heart of his repertoire, his highly nuanced playing makes him an outstanding chamber player." 18 April 2019
Le Monde : "Raphaël Sévère is unquestionably the best of our young clarinetists. Evidenced by the stunning virtuosity of an imaginative, sensitive and flamboyant playing, capable of colors, phrasing and nuances really unheard of." 1 February 2019
Bachtrack : "The soloist's playing is so full of nuances and colors of sound that we think we hear not one but several clarinets. A clarity here, to emphasize a line with accurately, there a sound padded to soften the subject. Inventive, Raphaël Sévère renews the listening of this well-known concerto, makes our ears more alert. " 22 January 2019
Classica : "At the age of 23, rising star of the French clarinet school, Raphaël Sévère made his mark as one of the leading instrumentalists of his generation. Possessing a soft, silky tone, always in search of freedom, he curls up easily into a wide variety of repertoires. Known for his stylistic vision and racy playing, he maintains an emotional relationship with chamber music. " May 2018
France Musique : Le live de la matinale (Lutoslawski)
France Musique : Portrait of Raphaël (Leur belle saison)
France Musique : Le live de la Matinale (1er septembre, Trio de Brahms).